Author:
Miao Huiqiang, Liu Na and Liu Hui
Source:
Shendong Coal
Pubdate:
2021-04-20
Font size:【L M S】
Mid April is the best time for tree planting in Erdos. On April 12, around 1,000 volunteers from Shendong Coal and the government departments of Wulanmulun Town, Yijinhuoluo Banner of Erdos, planted trees on the site of the Buertai Ecological Treatment Project.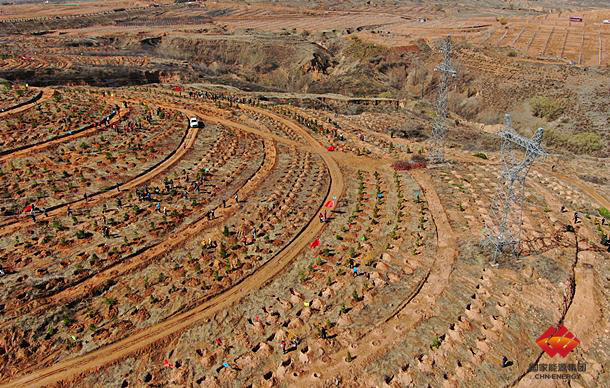 Employees of Shendong Coal and local government staff plant tree on the site of the Buertai Ecological Treatment Project.
As planned, volunteers worked in small groups of three to five. They followed every step of the procedure and worked methodically. To the noon, they planted more than 20,000 saplings of species including pinus sylvestris, Chinese pines and fruit trees.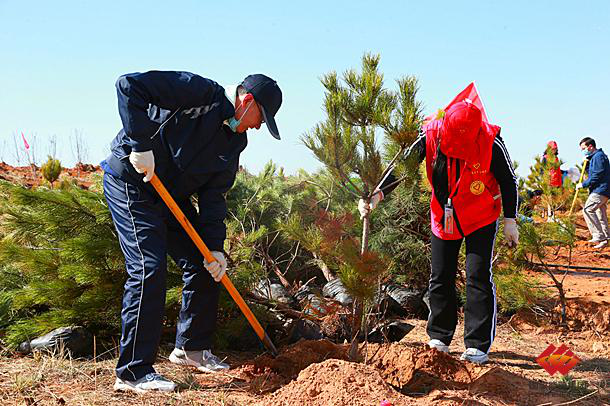 Volunteers work together to plant a pinus sylvestris.
The Buertai Ecological Treatment Project was launched to respond to Chinese President Xi Jinping's instruction of exploring a new path for high-quality development in which the ecology is prioritized and green development is the goal. The project features two separate zones for solar power exploitation and ecological treatment, respectively. Shendong Coal and the government of Yijinhuoluo Banner of Erdos jointly established a working group to advance the project, which will be built into a demonstration zone for ecological preservation and high-quality development in the Yellow River basin area.
The year 2021 marks the 40th anniversary of China's nationwide voluntary tree planting campaign. Since its founding 36 years ago, Shendong Coal has been echoing the campaign. So far, more than 30,000 people from Shendong Coal have taken part in the campaign online or offline, and planted more than 300,000 trees, contributing to the ongoing improvement of local ecology and environment.