On March 25, as the No. 1004 GKD3 locomotive entered the repair position, Baoshen Railway Group started its first localized overhaul of diesel locomotive in the year. The shift to localized overhaul has effectively reduced maintenance costs and improved efficiency.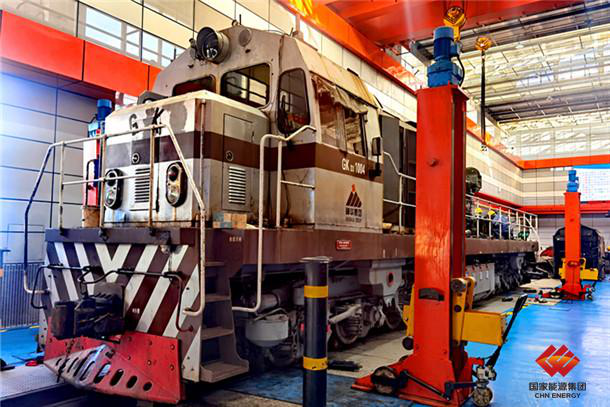 The No. 1004 GKD3 locomotive comes into the repair position.
Under the localized overhaul model, locomotives don't have to travel to repair shops, but the technicians will travel wherever the locomotive is to do the repair work. In the past, locomotives were attached to freight carriages and hauled to repair shops. Statistics showed that averagely the overhaul of a locomotive took 105 days, meaning the locomotive cannot be put into run for nearly four months in a year, which would be a great loss to operation.
This regular maintenance was planned to be finished in 45 days under the localized overhaul model. The branch company established a leading group for the regular maintenance. Jointly with CRRC Luoyang Co., Ltd., it made a comprehensive plan based on repair techniques, potential risks, maintenance cycle and after-sales quality warranty, and then fleshed out the plan by drawing experience from previous practices. The focus was set on the inspection of the running part and data analysis of the wheels and bearings. Inspection and tests of the braking devices and the direct current supply devices were strengthened to ensure the pantograph and train roof remain intact in terms of insulation. Problems and potential risks are also solved in a timely manner. The efforts paved the way for achieving the company's goal of localized regular maintenance of diesel locomotives. In the meantime, Baoshen Railway Group required maintainers, technicians and safety inspectors to strengthen on-site inspection and ensure work safety.
The work improved the repair efficiency and lowered the cost, laying a foundation for fulfilling the year-end target for localized overhaul of diesel locomotives.